Environmental Studies Celebrates Its Class of 2020 Graduates
May 8, 2020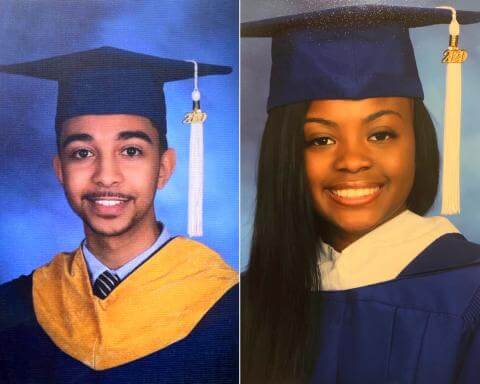 This spring, the environmental studies program is proud to recognize it's second set of graduates. Autumn McNeill and Elijah Catalan are the first 4-year graduates of the nascent program.
 Autumn McNeill is newly graduated with two Bachelor's in Environmental Studies and Sociology. She will be pursuing a masters at the Emory University's Rollins School of Public Health in the prestigious Behavioral, Social, and Health Educational Sciences department while obtaining a certification in Water, Sanitation and Hygiene. 
"Environmental Studies has taught me so much about the built environment and the environment of inner cities that are often forgotten. My time at Howard University has given me a strong social sciences background that I will use to continue my studies in environmental public health and education for inner city communities of color. Thank you HU and ES for providing me with a strong foundation in the areas that will be the basis of my career someday."- Autumn McNeill, Howard University Class of 2020
Elijah Catalan is also graduating with two Bachelor's degrees in Environmental Studies and Biology. In the fall, Elijah will be attending UCLA, pursing a doctorate degree from the Institute of Environment and Sustainability where he will study climate-change impacts in coastal zones and their connection with issues of environmental justice. 
"I am happy to have seen the ES program to grow and flourish during my time at Howard. The ES program provided me with excellent opportunities to grow as a scientist. Thank you to all of the faculty for inspiring my passion for environmental justice and helping me come so far in pursuing a career in this field." -Elijah Catalan, Howard University Class of 2020
 
Categories
Environmental Studies and Scholarship