Environmental Studies Majors Conclude Prestigious Internships on Capitol Hill
April 23, 2020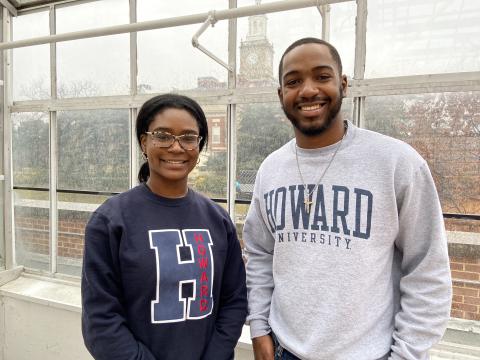 As the spring semester nears its end, two environmental studies students Ziyan Sears and Alexandra Grayson have successfully completed prestigious Congressional internship experiences on Capitol Hill. Interning for the House of Representatives is an opportunity uniquely available in Washington, D.C., and the two were sure to maximize their experiences.
Alexandra interned with the House Committee for Science, Space and Technology whose primary jurisdiction is over non-defense Federal research and development. Grayson recalls the highlights of her time in Congress:
"Interning on Capitol Hill with a Committee whose jurisdiction is directly related to my professional interests this Spring semester was a wonderful experience. I knew the Environment Subcommittee would peak my interest, and I left with newfound interests in and deeper understanding of Research & Development, Space and Energy Policy. It was most rewarding drafting questions for the Science, Space and Technology's hearing on the COVID-19 outbreak."
 Ziyan Spears interned for the House Select Committee on Climate Change, providing support to the committee as it prepared for the release of groundbreaking report in March, the report will provide policy recommendations to Congress on tackling the climate crisis. Spears further details his experience on Capitol Hill:
"Interning with the Select Committee on the Climate Crisis was an extraordinary opportunity. As an Environmental Studies major, working with the committee gave me up close and personal experience with climate change and environmental justice issues, both being areas of extreme personal interest. Attending and writing memos about Congressional markups and hearings was my personal favorite experience, allowing me to really learn how environmental policy is made to affect change. Additionally, the ability to network with other professionals on Capitol Hill was invaluable, providing me with an extremely unique and beneficial internship experience."
The two first learned of the opportunities through an announcement made by Environmental Studies Program Director, Janelle Burke. The multidisciplinary Environmental Studies program seeks to equip students with the training necessary to prepare them for environmental careers across various sectors, including public service, where professionals of color can be often underrepresented. 
Categories
Environmental Studies